Sketches of the Spirit at the Dragon Gallery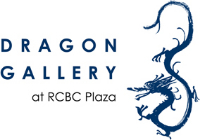 Sketches of the Spirit
November 13 – December 5, 2015
Sketches of the Spirit: Art and Healing by CAAI is a fundraising exhibit that features the works of more than 20 artists, including National Artists for Visual Arts Benedicto "BenCab" Cabrera, Arturo Luz, and J. Elizalde Navarro.
The featured artists include
Nunelucio Alvarado
Renz Baluyot
Hans Brumann
Benjie Cabangis
Alfredo Esquillo
Alee Garibay
Manny Garibay
Vivian Go
Pete Jimenez
Lei Lopez
Richard Montero
Jonathan Olazo
Grace Olores
Evangeline Pascual
Edu Perreras
Jemina Reyes
Frederick Sausa
Alan SyCip
Edwin Wilwayco
Armi Yam
Proceeds will fund the upcoming projects of the Ruben M. Tanseco – Center for Family Ministries (RMT-CeFaM) and the CeFaM Alumni Association, Inc. (CAAI).
About the Dragon Gallery
The Dragon Gallery at RCBC Plaza is an alternative exhibition space for art galleries, art associations, art schools, and artists. Located at the second floor of the Yuchengco Museum, the gallery is open Monday to Saturday, from 10 a.m. to 6 p.m. For gallery information, email dragongallery@yuchengcomuseum.org.