Thomas Kinkade: Painter of Light
February 25 – March 10, 2015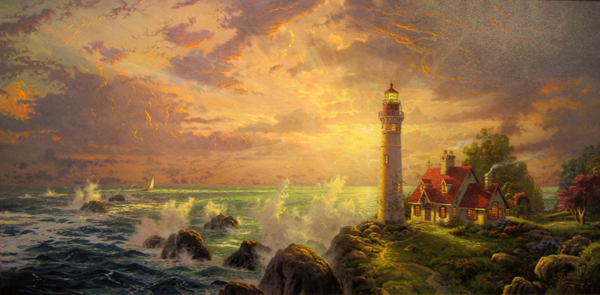 In the very beginning of his artistic career, American artist Thomas Kinkade (1958 – 2012) put his entire life savings into the printing of his first lithograph. Though at the time he was already an acclaimed illustrator and a background artist for Ralph Bakshi animation studios, Kinkade found that he was inspired not by fame and fortune, but by the simple act of painting straight from the heart, putting on canvas the natural wonders and images that moved him most.
The man from the small country town of Placerville, California attended University of California Berkeley and Art Center College of Design in Pasadena, California. As an artist, Kinkade emphasized simple pleasures and inspirational messages through his art. His goal was to touch people and to bring peace and joy into their lives through the images he created.
Kinkade's dearest wish had always been that his artwork would be a messenger of hope and inspiration to others—a message to slow down, appreciate the little details in life, and to look for beauty in the world around us.
Each Kinkade canvas lithograph comes with an Owner's Portfolio, which contains a Certificate of Authenticity, a Certificate of Limitation & Authenticity, and a Fine Art Owner's Manual.
About the Dragon Gallery
The Dragon Gallery at RCBC Plaza is a space dedicated to offering fine artworks for sale. Located at the second floor of the Yuchengco Museum, the gallery is open Monday to Saturday, from 10 a.m. to 6 p.m. For gallery information, email thewaterdragon@yuchengcomuseum.org.