Face the Art: Beatriz Robles at Water Dragon Gellery

Face the Art: Beatriz Robles
8th Solo Exhibition
Opens March 14, Friday, at 6 p.m.
March 14 – 28, 2014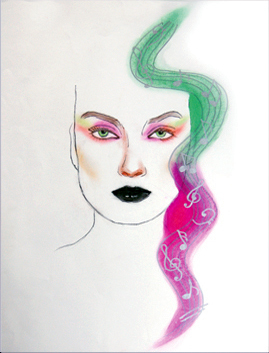 Face the Art is Beatriz Robles' eight solo exhibition. With a brush in hand, she moves boldly forward with each stroke. Like a painter, says the artist, "the makeup artist is faced with a blank canvas of his own–the smooth skin of a face. Both may be painting on different surfaces, but in essence are quite the same. Both play with light and dark to accentuate features or play them down."
Beatriz Robles studied Fine Arts, Major in Creative Writing, at Ateneo de Manila University. She has exhibited her works at One Workshop Gallery and Heritage Gallery. She was also a finalist in the GSIS Painting Competition in 2009.Daugther of artist Rene Robles, Beatriz is also a writer and classical musician. She has contributed articles to magazines such as Mega, FHM, Uno, Chalk, BluPrint, and Candy. She has also self-published her first book, Life Through Letters: A Writer's Journey from Sunset to Sunrise. She is also principal clarinetist of the Philippine Philharmonic Orchestra.
About the Water Dragon Gallery
The Water Dragon Gallery at RCBC Plaza is a space dedicated to offering fine artworks for sale. Located at the second floor of the Yuchengco Museum, the gallery is open Monday to Saturday, from 10 a.m. to 6 p.m. For gallery information, email thewaterdragon@yuchengcomuseum.org.