Neil Arvin Javier Solo Exhibit @ Secret Fresh Gallery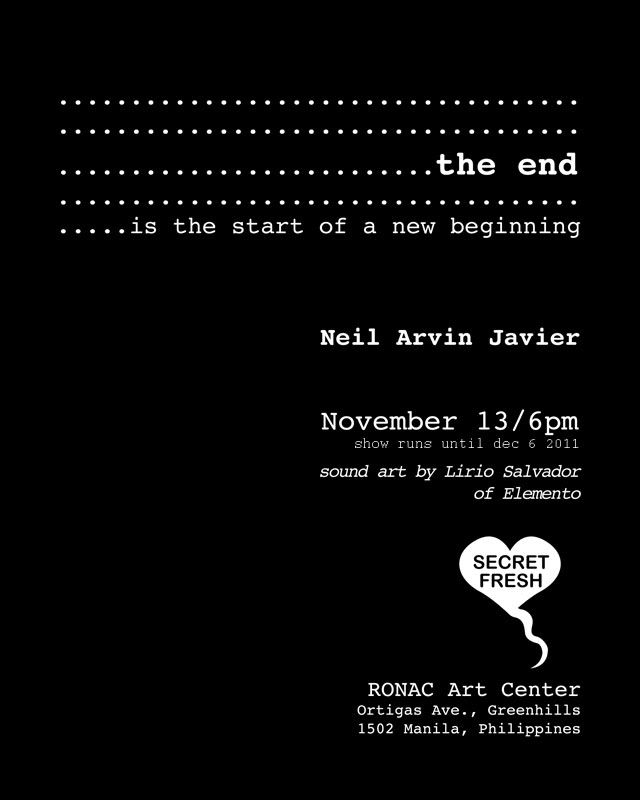 THE END… is the start of a new beginning
NEIL ARVIN JAVIER solo exhibit
SECRET FRESH GALLERY
Ronac Art Center, San Juan, Metro Manila
13 November – 6 December 2011
THE END…is the start of a new beginning by Arvin Javier opens at November 13, 2011 at the Secret Fresh Gallery in Ronac Art Center, San Juan.
On his sixth solo exhibition, Javier expounds on his punk, street and recycled DIY sensibilities in paintings, collages, collaborative works, assemblages, and his new evolution of SculpTOYZ. As in all of his previous shows, Javier represents his highly personal stories in raw form, intentionally eschewing conventional methods of creating art, unafraid of consequences and uncaring of critique.
"It's the beginning of the beginning and the end of an era, and so much more than an artwork. It's my portfolio and describing it is describing me. Everything and anything must come to an end, in the end it doesn't even matter because new life will start to emerge, just like a finished artworX, to begin a new one," according to Javier.
What the audience may view as a vulgar explosion of illustrations may provoke or shock, but the artist stays true to his personal aesthetics in creating pieces that are filled with found images and conjured characters that inhabit his world and his life, rife with the saturation of mass media, iconography, pop culture, angst, rebellion against the system and mundane occurrences. Everything is discordant with the numerous portraits, monsters, animals, and humanoids layered with text, drips, sprays, brushwork and patterns, showing how random absurdities can be designed to disturb and disrupt our safe and sanitized lives.
An old carpet from the friendly neighborhood secondhand store is given new life as art with the addition of fabric cartoon characters snipped from old shirts and sewn into it, interacting with the central figure of a child reading with a lion. The cartoons mock, stare vacantly into space and stay cute, reeking of bubblegum humor, teasing the utter validity of the carpet as a household accessory. Monsters pile up like totem poles, premonitions of projects that are yet to come. A love letter is disguised as a mélange of text and ultra bright fluorescent colors, lamenting the dark memories of a love lost. A figure is built out of objects and faces encountered in the everyday, walking with a thought bubble filled with a babble of comic dialogues. Children's wooden blocks are transformed into robots, with massage balls sprouting faces and metal legs.
It is very much a visual representation of Sid Vicious' celebrated performance of My Way, where a drugged-up, droning, creepy monotone evolves into screams, bursts of vocal energy and gunshots. Some members of the audience might be unnerved, maybe even appalled, but they clap anyway, probably because in all its senselessness, it makes perfect sense. And this end is just the start of a new beginning.
Neil Arvin Javier graduated with a Bachelor of Fine Arts degree from the Technological University of the Philippines in Manila. He was a semi-finalist at both the Philip Morris Philippine Art Awards and Metrobank Art Competition in 2003, and a finalist in the Royal Elastics Graffiti Competition in 2004 as well as in the Epson Photo Imaging Exposition and Manila, My Manila Photography Competition in 2005. He won second place in the first Philippine Drawing Society Art Competition in 2004.
(Kaye O'Yek, Manila, November 2011)
The exhibit will have its opening cocktails on November 13, Sunday at 6PM.
The exhibit opening will be complemented by a performance by Buntisan festival founder and pioneer sound artist Lirio Salvador of Elemento.
The exhibit will be on view until the 6th of December 2011.
Secret Fresh is at the Ground Floor of Ronac Art Center, Ortigas Avenue, North Greenhills, San Juan, MM. Contact details : (632) 5709815 local 7. Email freshmanila@gmail.com or secretfresh.gallery@gmail.com
Secret Fresh is open from Mondays to Saturdays from 2 to 10 PM and Sundays from 1 to 6 PM.